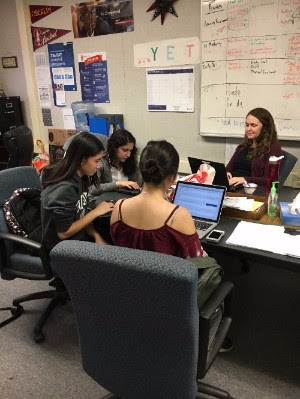 Dear Rainier Families,
We are excited to invite our Expeditions program onto campus again this week. Each Expeditions cycle we are grateful for the support we get from our Expeditions team in teaching our students about such a variety of topics from Drama and Art to Computer Science and Sociology. This also gives our teachers the unique opportunity to take a step back and reflect on their teaching, grade projects, and plan amazing lessons for when students return to their core classes. This cycle, our teachers will also focus on supporting their mentees better through training on 1:1 mentor check-ins.
Expeditions also provides an important opportunity for our students to catch up on any work that they have fallen behind in. Each day they have PLT with their mentor and during this time they should be working hard to complete any overdue assessments or projects. With an extra week for Thanksgiving Break, our students should be able to make a lot of progress toward their goals and start December feeling successful and excited for the second half of the year. We will be sending home progress reports at the end of the Expeditions period to show you exactly where your student is doing well and where they are falling behind.
Sincerely,
-Jesse Roe, Executive Director
-Edwin Avarca, Assistant Director
Queridas familias de Rainier,
Estamos emocionados de invitar nuestro programa de Expediciones de vuelta a nuestra escuela. Cada ciclo de Expediciones estamos agradecidos del apoyo del equipo de Expediciones por el trabajo que hacen de enseñar clases como Drama, Arte, ciencias de computadora, y sociología. Expediciones también le da la oportunidad a nuestros maestros para que reflejen en la manera que dan clase y calificar proyectos. Para este ciclo nuestros maestros se enfocarán en ser mejores consejeros.
Expediciones también da la oportunidad para que nuestros estudiantes puedan completar el trabajo que no han terminado. Cada día tienen tiempo para terminer sus trabajos y completar exámenes que no han hecho, o proyectos que se tuvieron que entregar en las últimas semanas. Con una semana extra de vacaciones de acción de gracia, nuestros estudiantes deben poder hacer progreso, sentirse exitosos, y estar listos para la segunda mitad del año. Les mandaremos calificaciones de progreso al fin de expediciones para que vea el progreso de su estudiante.
Sinceramente,
Jesse Roe, Director ejecutivo
Edwin Avarca, Sub-director